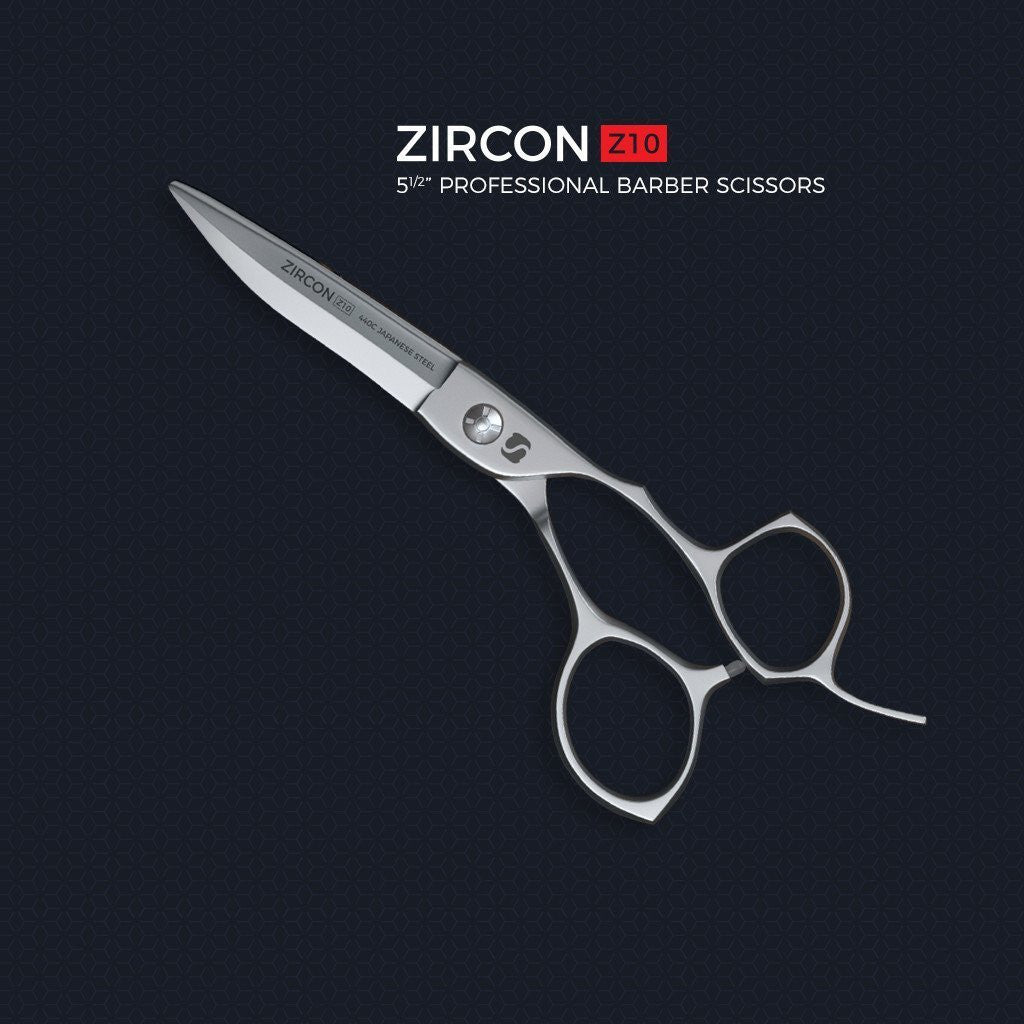 Zircon Z10
JAPANESE 440C STEEL BARBER SCISSORS WITH A FREE LEATHER POUCH.
$129.00
$321.00
excl. VAT
Model: Zircon Z10
SKU: BS-7125-SSP-0550
Barcode (EAN): 5055406702022

ZIRCON Z10 5.5" FOR PROFESSIONALS
These Japanese 440c Razor Edge Shears Are Designed For Barber / Hairdressers Like Yourself For Cutting, Trimming, Grooming & Styling Hair, Comes With Large Finger Holes & Tension Adjustment Key.
---
Share this Product
Suvorna Professional 5.5 Inches Japanese 440c Stainless Steel Scissors.
Suvorna Professional 5.5" hairdressing line of scissor comes with razor edge blades, the razor-sharp edge makes cutting effortless and silky smooth. Comes with a leather pouch for safe keeping when they are not in use. Suitable for home and professional use.
Features
PRECISE CUTTING: The only barber scissors designed as a perfect tool for precise hair cutting tool. Take control over your hairs and wear the look you want. These scissors are a must have for every professional hairdresser & hair-stylist. Comes along with a specially designed key for tension adjustment, comes with rubber finger inserts. We promise they'll not disappoint you!
RAZOR SHARP: Extremely sharp razor edge blades have a convex edge that eliminates hair bending and pushing. The blades are also hollow ground, which increases cutting efficiency and facilitates precision cuts.
JAPANESE 440c STEEL: These scissors are drop forged from a single piece of the finest quality Japanese 440c stainless steel. This particular grade of steel allows heat treatment to a Rockwell hardness of 58-60, which retains the cutting edge a very long time. Every pair is Mirror finished by hand first and is finely tuned to ensure the best performance. These scissors can last a lifetime.
LIFETIME WARRANTY: We take pride in our craftsmanship, every scissors undergoes our Quality Assurance tests and we offer a lifetime warranty against any manufacturing defect.
90 DAYS FREE RETURN: Try them for yourself and if they do not meet your expectations, we are happy to exchange or refund, no question asked!
Tech Specs
Size: 5.5 inches
Finish: Natural Steel Finished
Material: Japanese 440c Steel
Colour: Natural
Free: Leather Pouch
Finger rest
Fixed ergonomic finger rests for your comfort & give an accurate balance.
Adjustment screw
Simple minimalist screws design for minor tension adjustments.
Stylish handles
Comfortable & attractive handle design for a stylish look.
Razor sharp cutting edge
2 inches razor edge cutting blades for silky smooth cutting.
Adjustment key
Come along with a key for minor tension adjustments.
Finger inserts
Two pairs of matching colour rubber finger inserts for size adjustment and comfort. (Colour may vary)
Leather pouch
Genuine leather pouch for safe keeping when not in use.
Description
Suvorna Zircon Z10 5.5" Professional Grade Scissors.
Introducing our new Zircon series which combines old forge traditions with state of the art and futuristic technology. The maximum sharpness, hardness and durability of the edges is achieved using the renowned wear resistant Japanese 440C stainless steel alloy.
Haircuts are a normal part of the grooming routine. Without them, our hair becomes unmanageable, messy, and gross. Our hairstyle says a lot about who we are. So we often visit the barber when we need to change our style. Good haircut must match your face shape and hair type, so it not only doesn't look weird on you but compliments you too. This Zircon Z10 is crafted with the traditional convex blade designed to increase cutting power while providing extended blade durability.
All Suvorna products are backed by a money back guarantee, So if you're not satisfied with the purchase for any reason, you may return it in original condition (unused) within 90 days for a full refund.
---
---
More from this collection